Postal Products Unlimited Receives 2nd USPS Quality Supplier Award
Thirteen companies were recognized by the U.S. Postal Service for superior supply chain performance and delivering best-value solutions that reduce costs, enhance performance, maintain high levels of service and collaborate to grow the business in 2009.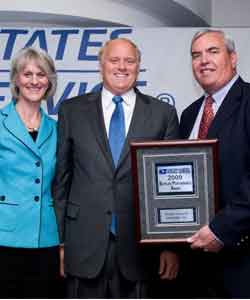 "For 20 years, we've been using this ceremony to show our appreciation for the outstanding performance and service levels provided by people like you who are suppliers for the Postal Service," said Postmaster General John E. Potter. "Clearly, we live in financially challenging times, which demand the best from all of us. Let me tell you how grateful I am that you've given your best to the Postal Service and to the American people."
Susan Brownell, vice president, Supply Management, helped present the awards at a ceremony this week in Washington, DC.
"Our suppliers play a vital role in the success of the Postal Service," she said. "They bring capabilities and innovation to all facets of our business, helping us deliver high levels of service everyday for our customers."
2009 Supplier Performance Award winner:
Postal Products Unlimited, Inc., Milwaukee, WI
Supplier Performance Award
Postal Products Unlimited provides various commercial and non-commercial postal-unique supplies and equipment to the Postal Service.
"Brian Nelson, president Postal Products Unlimited is honored to be recognized with this award from our largest customer, the U.S. Postal Service. We are pleased that our efforts have resulted in savings to the Postal Service during these very challenging economic times. We look forward to working together on future projects and finding ways to enhance our long-term relationship."
This is the second time the USPS recognized Postal Porducts Unlimited as a Quality Supplier. We received the first recognition in 2005.